This quick guide is intended to help you get the most out of your Genius Membership
Based on our experience as branding, digital marketing, public relations, and new business and innovation consultants, we detect that good ideas are generally not usually accompanied by scientific arguments that turn them into reality. Instead, more than 500 projects with clients in different countries taught us that the best way to add value through a good idea is to support it with three conceptual questions:
👉 Who is the target audience that will benefit from implementing the idea?
👉 What statistical data support the idea?
👉 How have similar ideas been executed?
Your Genius Membership will help you answer these questions so that you have better arguments to make business decisions.
Step 1: Get to know the interface

The interface of Antropomedia Express: Consumer Tribes has been designed to make it easy for you to use. You can customize it according to the color palette you like and the way you prefer the information to be presented.
To change the color palette, open the left sidebar menu and click on Theme. You will find four themes to choose from, Light (the default), Whitesmoke, Dark, and Midnight (the gamers' favorite).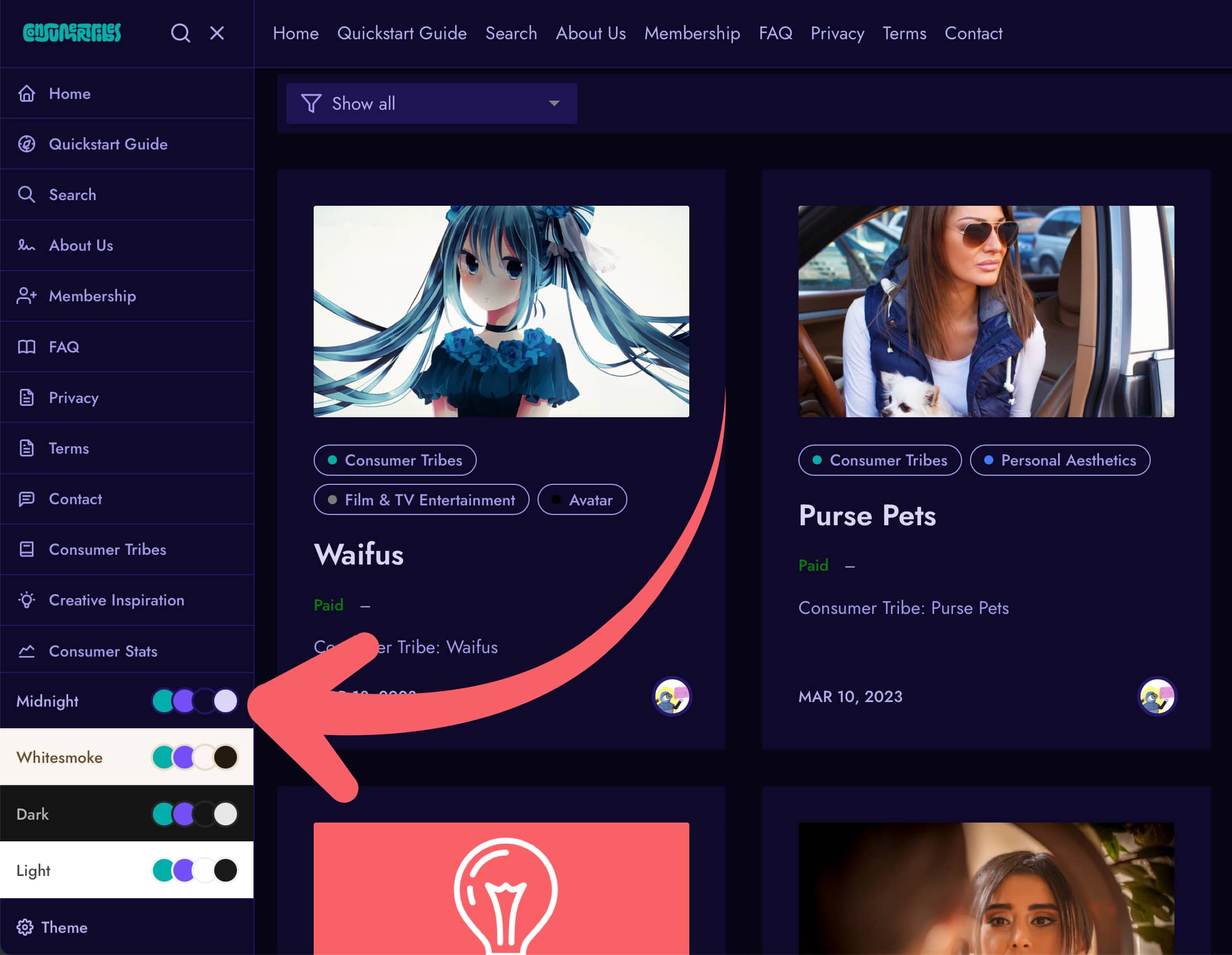 The view of the posts can also be customized. They are presented as cards by default, but if you want to navigate faster, you can use the list view. To do so, find the view icons to the right of the filter bar. You can also do this by clicking View in the bottom corner of the left sidebar.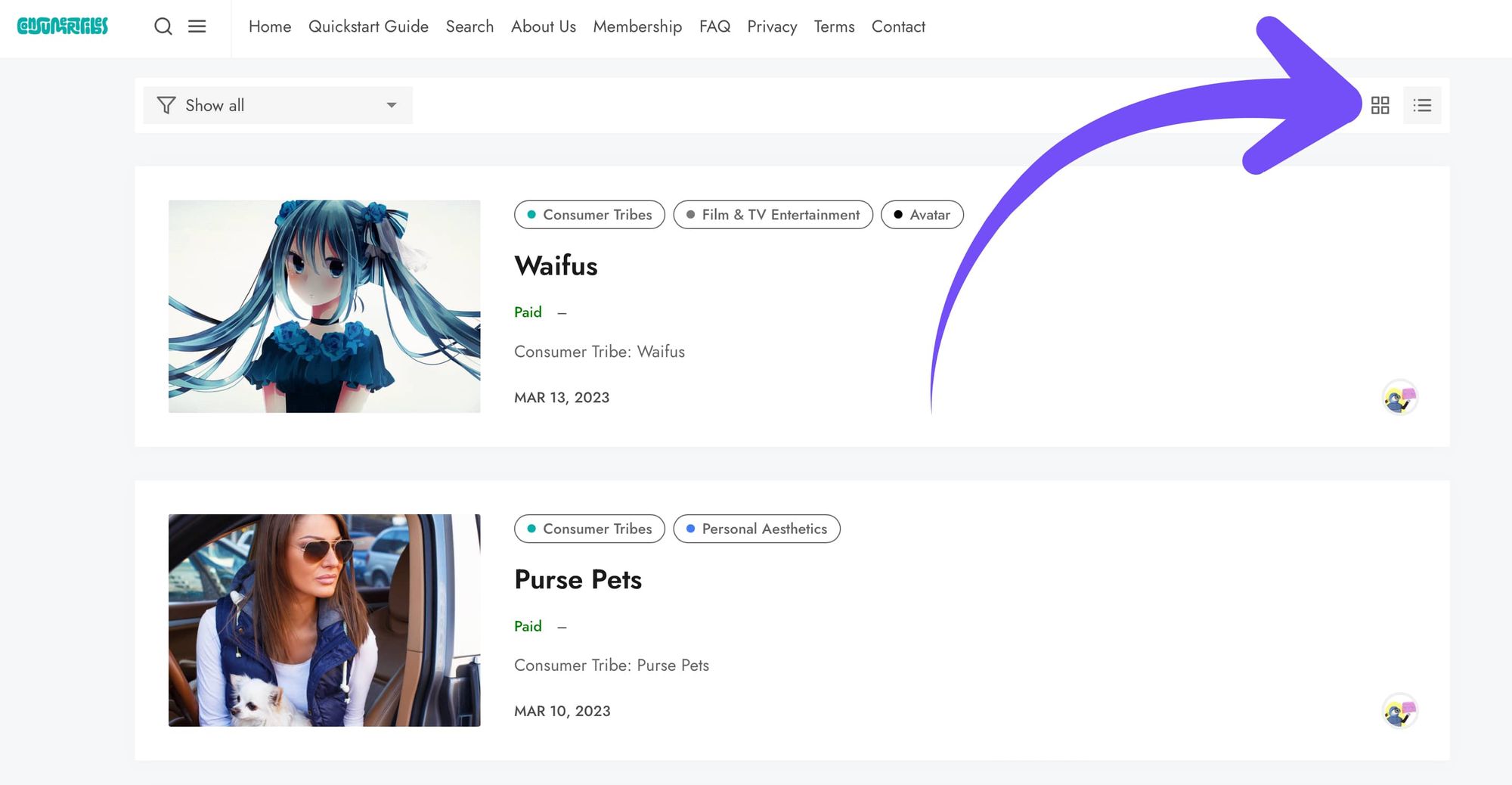 Step 2: Familiarize yourself with the experiences
Experiences work as tags or topics and are the cornerstone of this platform because they filter how consumer tribes perform their collective identity . They may be related to particular industries or categories; for example, applying the luxury experience filter may show as outcome consumer tribes, statistics, and campaigns associated with the luxury industry. Although it is a concept that has already been addressed in social anthropology (Geertz, 1986; Throop, 2003; Turner, 1986), in ethnographies, it is typical to use the term "experiences" to refer to sensory, affective or phenomenological approaches aimed at understanding the intentions that exist, for example, when using the Internet and other technologies. However, experiences go beyond content and technologies because they build affective and sensory environments outside these areas. For Michel Serres (2008), for example, all aspects that cannot be directly observed or expressed through language are perceived through experiences. Given Serres' point that experiences cannot be observed directly or through language, efforts to understand and study them are largely based on our analysts' immersion in other people's experiences.
We have identified 20 experiences but do not rule out adding more as we discover new tribes. You can click on the tag of the experience you are most interested in. Then, you will automatically be presented with the result that includes all the consumer tribes, statistics, and case studies that link to it.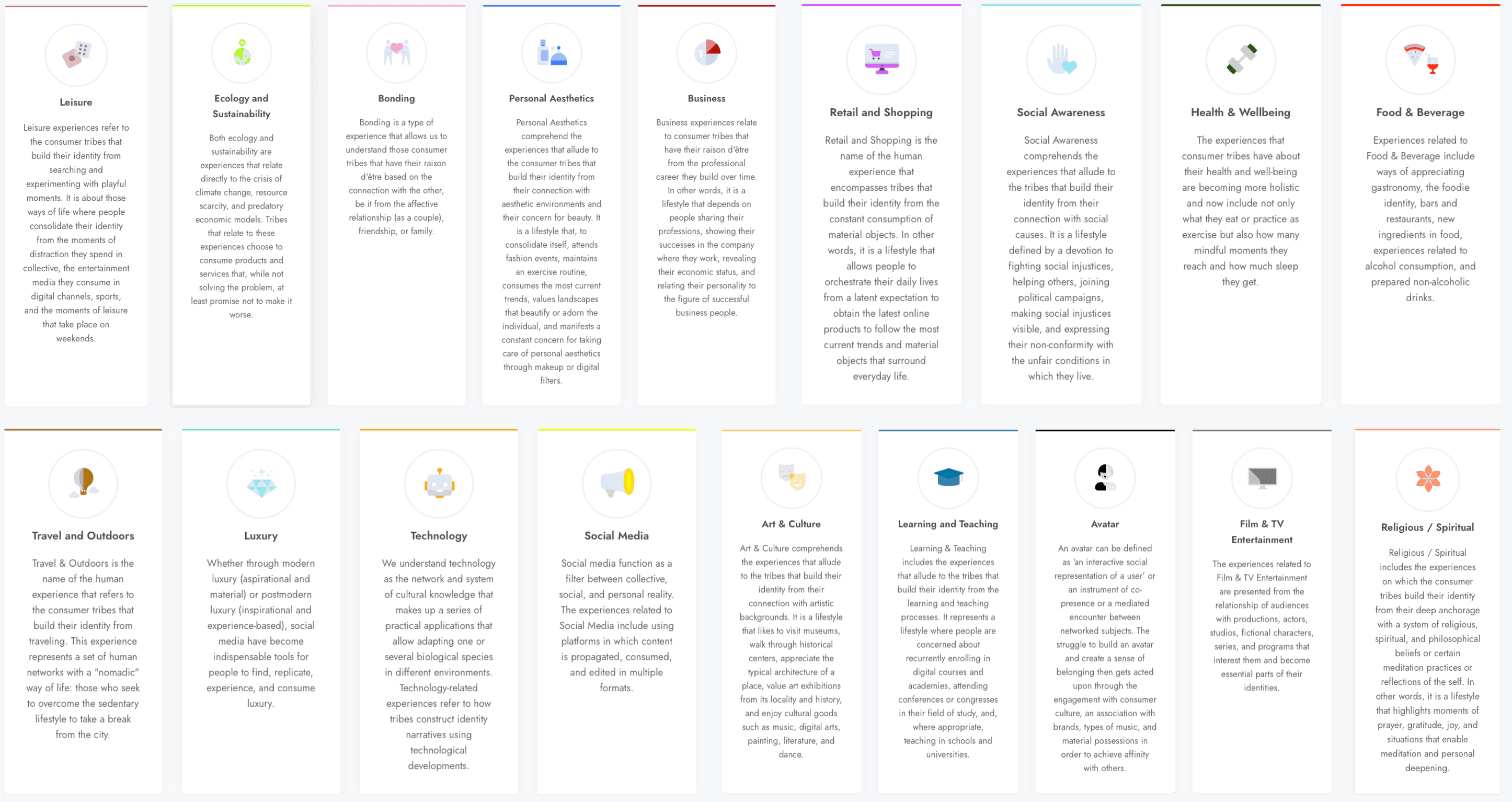 Step 3: Save the information for later reference

We know it's easy to get overloaded with information, so we've added the Bookmarks feature to save the information you're interested in for later reference without needing to search for it again. First, find the bookmarks icon to the right of the action bar when you open each post. The icon will change color when you click there, and you will know the post has already been bookmarked. Next, find all the bookmarks you save in the left sidebar menu. Finally, you will find the Bookmark button at the bottom.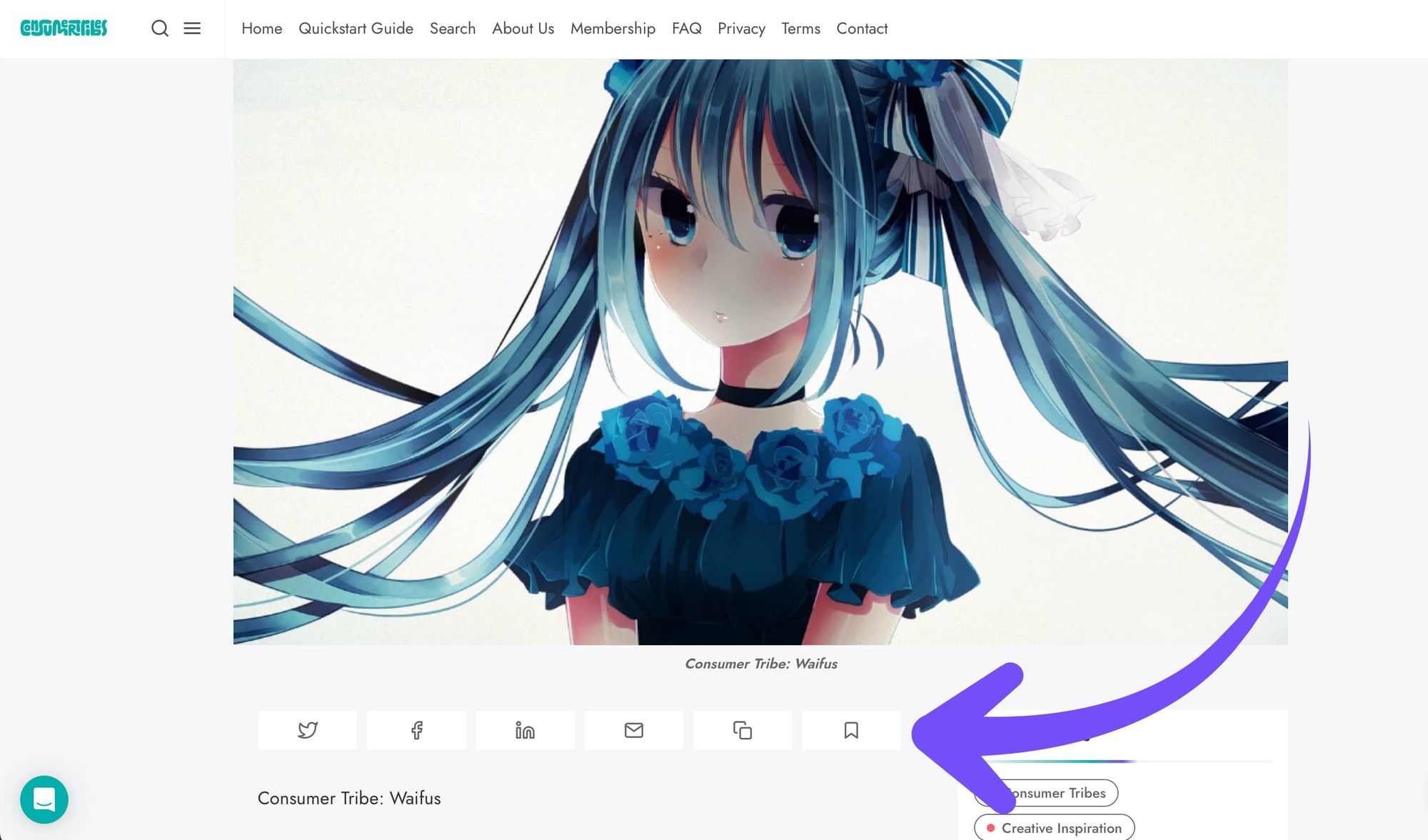 Finally, we encourage you to leave comments on the platform's content. If, for example, you have seen a campaign that targets a specific consumer tribe, you can comment on it so that other Genius users can learn about it as well.
Step 4: Apply this information to improve your business results
👉  Instead of creating buyer personas based on stereotypical assumptions, use actual customer segments that are culture-inspired and data-informed (consumer tribes).
👉  Make sure your social and display advertising targeting is optimized. (e.g., Google Display Network, Facebook).
👉  Produce materials to serve consumer tribes' interests.
👉  Integrate into social media messages to increase exposure (e.g., TikTok, Twitter, & LinkedIn).
👉  Make suggestions to various outlets that cover these subjects.
👉  Utilize our cost-free digital marketing tool, TribeTagger, to monitor your most engaged consumer tribes.
👉  Tackle current and emerging marketing topics.
👉  Prove your case and back up or support your idea.
Here you can find some open-access examples about a consumer tribe, one case study, and consumer statistics that relate to each other through nostalgia marketing.
Priority Support
As a Genius Member, you get priority support. Use the Chat Intercom in the lower left corner of all Genius member-only publications (Consumer Tribes and Case Studies). We'll be happy to help you.